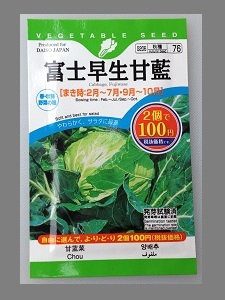 Cabbage



Cabbage is without a doubt one of my favorite cool season veggies. These leafy balls were relatively easy to grow and tasted great in a number of dishes, my favorite being okonomiyaki, a Japanese style pancake made with cabbage, flour, and anything else you feel like putting in such as, chicken, squid, or even cheese. This versatile veggie is also great in soups in salads.

The first season on Tanegashima the cabbage I grew barely made it through the strong northerly winds which blow almost constantly it seems from as early as October to as late as March. No worries though, the next season turned out much better thanks to a little thought and a few new techniques.



English Name

- Cabbage



Japanese Name

- 富士早生甘藍 (fujiwasekanran)



Picture

- A package of cabbage seeds from the 100 yen store.
Sowing



After the fiasco of the first shot at growing these, it was time to change a few things. The next season I decided to sow the seeds directly in the farm and not in pots.

I was kind of late again thanks to a lot of time spent on changing the farm beds from an offset square design to an inline square design....I digress. The seeds were not sown until the middle of October, somewhat late for this subtropical climate. It all worked out though thanks to a few new techniques and better placement in the farm.

I set out my cabbage seeds directly in the farm in 2 meter long rows with the seeds closely spaced. As the seedlings began to grow, I moved them to a square bed measuring 2 meters x 2 meters with 4 rows, running north to south. Each cabbage seedling was placed only 25 cm away from each other.


This time the cabbage was grown in one of the middle beds, a few meters away from the bamboo wall on the north side of the farm. This helped a lot to reduce the effects of the wind. In addition, I think the soil was a little better, maybe softer, if that makes any sense. I also began "hilling up" the seedlings as they began to grow.

Hilling up (not sure what the actual farming term is for this) made a huge difference this time around. Hilling up is using your hands, or a small tool, to delicately pull soil up and around a seedling to give it support and protect it from the wind and rain. Cabbage seedlings are very delicate and cannot handle strong winds. This year the cabbage seedlings were hilled up all the way to the lower leaves. Now held in place, they were no longer flopping around in the wind and were given a change to grow stronger.






Companions



xxxx



Maintenance



xxxx



Pests & Problems



xxxx



Harvesting



xxxx



Recipes



xxxx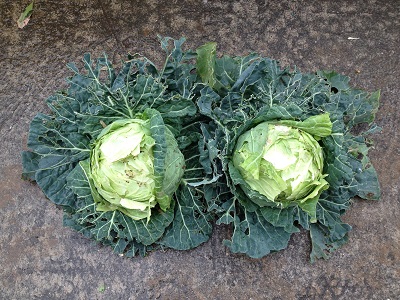 Two Heads Are....



As the saying goes, two heads are better than one, and this must also apply to cabbage. I am not using any pesticides in my farms and this is the result, totally chewed up outer leaves. The actual cabbage head were much better with very few bugs.



Mistake:

This year we are actually eating outer leaves which look like these. I think they call them Spring greens or something like that. Usually the bugs which caused the damage to the leaves is not longer around when the leaves are harvested. These cabbage leaves were perfectly okay to eat. Simply brush off any suspect areas while in the farm and then give the leaves a good washing before using.



Picture

- A couple of nice heads of cabbage.