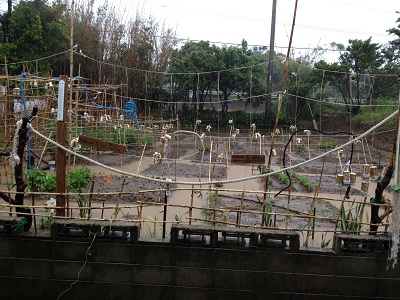 Tanegashima Island



To say that farming on Tanegashima, Japan is a challenge would be a gross understatement. The island is subject to the following: torrential monsoon rains at the beginning of Summer, very strong tropical storm force northerly winds from November through March, and the possibility of typhoons from May through October. The climate has, and continues to be, the most challenging factor. That said, this subtropical climate also provides warm moderate temperatures during the Spring and Summer for growing almost anything and fast. The cooler months are perfect for leafy veggies as temperatures are moderate and seldom reach frost levels.

The following is a list of everything I tried to grow to date, either successfully or not. Although I try to follow conventional wisdom, I often stray and experiment quite a bit in my farms, occasionally coming up with something new.



Picture

- The upper farm after receiving over 12 inches of rain in 24 hours.
Herbs



Gosh these are fun to grow, harvest and especially EAT. As usual, a couple of typhoons wreaked havoc on the farms, including the herbs, but some did very well despite this crazy climate.

The shiso, cinnamon basil, and especially the sweet basil were fantastic during the first Spring/Summer (2015) season on the island. In fact, there was so much sweet basil harvested, I was able to make hundreds of "basil ice cubes" for use during the cooler months.

The herbs were pretty easy to grow and the bugs stayed away. Planning to put in much more and a wider variety during the 2016 Spring/Summer season.



Picture

- xxxx.
Basil
Chamomile
Lemon balm
Oregano
Parsley
Peppermint
Rocket
Thyme
Flowers



We all know the story of Johnny Appleseed right? Well I am probably going to be known as Howie Marigold seed, at least on this island. Yup I am a total marigold fan. I put marigolds in pretty much every bed of the upper farm....Why?

Marigolds made the farm absolutely beautiful grown as a background to all the green veggie leaves during the Spring/Summer season of 2015. The scent from the flowers also greatly reduced the amount of bugs, especially mosquitoes and many leave eating insects.

I already saved bag loads of seeds for the upcoming 2016 Spring/Summer season.



Picture

- xxxx.
Alyssum
Canna
Gypsophila
Marigold
Sunflower