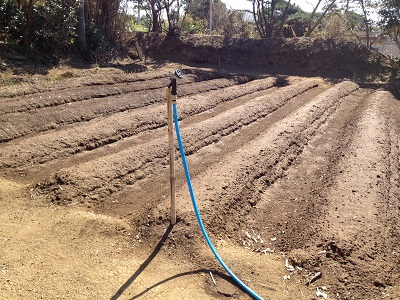 Bamboo....Hey Why Not



Tanegashima, Japan is loaded with bamboo, some tall and thick, along with smaller stands of this useful grass. Yup, being on a small island has many advantages, and this is one of them.

After moving to the island, it became evident that most things were much more expensive in this little corner of the world than on mainland Japan thanks to the exorbitant sending fees. Another realization was the need for wood, or at least some type of building materials, for farming and other house projects, like keeping our very active puppies out of the neighbors farms. The choice was spending hundreds of dollars on wood from the over priced building supply store or find an alternative.

With numerous stands of bamboo situated on the perimeter of all three farms, the choice became obvious.



Picture

- Bamboo farm hose nozzle holder.
What is Bamboo?



Bamboo sounds like one of the noises when people got hit in the old Batman shows....you know....biff....boffo....bam....bamboo. Maybe even a good word around Halloween when you blow something up and try to scare someone at the same time.

Well actually bamboo is a tribe of flowering perennial evergreen plants in the grass family. Bamboos are some of the fastest-growing plants in the world. Certain species of bamboo can grow 35 inches or more within a 24-hour period. This means plenty of bamboo to go around for all your projects.

Did you know bamboo has a higher compressive strength than wood, brick, or concrete and a tensile strength that rivals steel? Ooh la la, a strong, and more importantly, FREE, building material.



Picture

- Bamboo cut and ready to be used in the farms.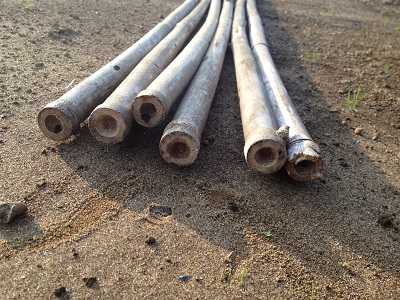 How to Prepare Bamboo



Preparing bamboo is pretty much the easiest thing you could ever imagine. Nature was kind enough to design this perfectly, taking away all worries of where to cut, tie, or use. Why is this stuff so easy to use? Because bamboo has little rings called nodes located between the long hollow sections.

When bamboo is cut close to the nodes, the result is a sealed end which keeps soil and insects from getting into the piece, making it resisted to rot and any type of infestation.



Picture

- Bamboo pieces cut close to the nodes.