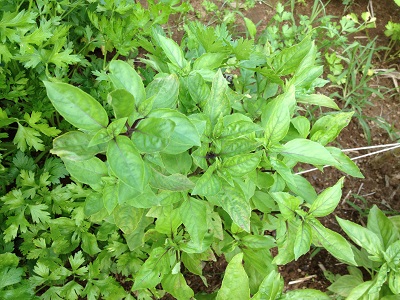 Forest Farming



We are now growing our food in three places.

1. At home
2. At a farm close to our home
3. At our mountain forest

During the Summer of 2021, we purchased a mountain containing a dense forest of oak and cypress trees. Although the forest was in poor condition, the soil turned out to be fantastic with almost no rocks. We were already growing food in a farm and at our home but decided to open up a large area of the forest for a campsite and for food production. We rearranged much of what we were already producing at the farm and at home which involved moving hundreds of very heavy banana trees and simplifying the farming process at both places in order to focus on our new mountain. Now most of the rearranging is complete and this is our basic farming plan for self-sufficiency.



Home

- This is where we are growing most of food that requires frequent harvesting such as tomatoes, peppers, and various herbs.



Farm

- This is where our bulk carbohydrates are being grown which includes approximately 160 meters (about 3,000 sweet potatoes per year) of three kinds of sweet potatoes and about 250 banana trees consisting of 16 different varieties.



Mountain

- This is where a combination of bulk food including, turmeric, garlic, and fruit, along with annuals and perennial herbs including apple mint, lemongrass, stevia, and oregano are being grown. The forest faming is by far the most enjoyable and where we plan to expend most of our efforts.

The following table is a detailed list of the food we are growing at our home and at our mountain forest.

Home and Forest Farming Food List



I put this online in order be able to access this information from anywhere.
Table Key

Food
T
S
H
M
D
B
H
C
Date
Notes

Food

- a list of what we are growing at home and at the mountain forest

T

- type .... A = Annual, P = perennial

S

- where seeds were obtained

O

- old seeds

N

- new seeds

NO

- both

H

- food grown at home .... Y = yes, N = no

M

- food grown at the mountain forest .... Y = yes, N = no

D

- indicates if deer eat the food .... Y = yes, N = no, ? = unknown

B

- indicates if bugs eat the food .... Y = yes, N = no, ? = unknown

H

- indicates when food is harvested .... C = when finished growing, P = periodically

Date

- indicates the date when the seeds were sown

Notes

- additional information
| | | | | | | | | | | |
| --- | --- | --- | --- | --- | --- | --- | --- | --- | --- | --- |
| Food | T | S | H | M | D | B | H | C | Date | Notes |
| Ginger | P | O | Y | N | ? | N | C | N | 3/20 | |
| Gajyutsu | P | O | P | Y | N | N | C | N | 4/8 | |
| Turmeric - regular | P | O | P | Y | N | N | C | N | 4/8 | |
| Turmeric - wild | P | O | P | Y | N | N | C | N | 4/8 | |
| Garlic | A | O | Y | Y | N | N | C | N | 10/15 | |
| Onion | A | N | Y | N | N | N | C | N | 10/15 | |
| Negi | P | N | Y | Y | N | N | P | N | 10/15 | |
| Nilla | P | O | Y | N | N | N | P | N | 10/15 | |
| Goya | A | O | Y | Y | N | N | P | N | 3/20 | 4/16 mountains |
| Vine leaf | A | NO | Y | Y | N | N | P | N | 3/20 | 4/16 mountains - new seeds |
| Gourd - sponge | A | O | Y | Y | N | N | P | N | 3/20 | 4/16 mountains |
| Asparagus | P | N | N | Y | ? | ? | P | N | 4/8 | metal frame |
| Basil - sweet | A | NO | Y | Y | N | N | P | Y | 3/20 | 4/16 mountains - new seeds |
| Basil - lemon | A | O | Y | N | N | N | P | Y | | |
| Basil - holy | A | O | Y | N | N | N | P | Y | | |
| Basil - cinnamon | A | O | Y | Y | N | N | P | Y | 3/20 | |
| Lemongrass | P | O | Y | Y | N | N | P | N | 3/20 | |
| Lemon balm | P | O | Y | Y | N | N | P | N | 3/20 | |
| Oregano | P | O | Y | Y | N | N | P | N | 3/20 | |
| Thyme | P | O | Y | N | N | N | P | N | 3/20 | |
| Stevia | P | O | Y | Y | N | N | P | N | 3/20 | |
| Dill | A | O | Y | N | N | N | P | Y | 10/15 | |
| Fennel | A | O | N | Y | N | N | P | Y | 10/15 | |
| Parsley | A | N | Y | Y | N | N | P | N | 10/15 | |
| Shiso - green | A | O | Y | Y | N | N | P | Y | 4/8 | 4/16 mountains |
| Shiso -red | A | O | Y | N | N | N | P | Y | 4/8 | |
| Soybean | A | N | N | Y | ? | ? | C | N | 4/8 | metal frame |
| Edamame | A | N | N | Y | ? | Y | C | N | 4/8 | metal frame |
| Kaboucha - USA | A | N | N | Y | ? | Y | P | N | | |
| Kaboucha - Japan | A | O | Y | Y | ? | Y | P | N | 3/20 | 4/16 mountains |
| Melon - oriental | A | N | N | Y | ? | Y | P | N | 4/16 | |
| Zucchini | A | N | N | Y | ? | Y | P | N | 4/16 | |
| Peanuts | A | O | N | Y | ? | N | C | N | 4/8 | metal frame |
| Moroheya | A | O | Y | Y | ? | N | P | N | 4/8 | 4/16 mountains |
| Bean - runner | A | N | Y | Y | ? | N | P | N | 3/20 | |
| Swiss chard | A | N | Y | N | ? | N | P | N | 10/15 | |
| Okra | A | O | Y | Y | ? | Y | P | N | | 4/16 mountains |
| Gobo | A | N | N | Y | ? | ? | C | N | 4/16 | |
| Squash - butternut | A | O | Y | Y | ? | N | P | N | 3/20 | 4/16 mountains |
| Melon - otome | A | N | N | Y | ? | ? | P | N | 4/16 | |
| Tomato - sekaiichi | A | NO | Y | Y | ? | Y | P | N | 3/20 | |
| Tomato - principe | A | NO | Y | Y | ? | Y | P | N | 3/20 | |
| Tomato - wild cherry | A | N | Y | Y | ? | Y | P | N | 3/20 | |
| Nasu | A | N | Y | N | ? | N | P | N | 4/8 | |
| Pepper - sweet | A | N | Y | N | ? | N | P | Y | 4/8 | |
| Pepper - fushima | A | N | Y | N | ? | N | P | Y | 4/8 | |
| Pepper - Korean | A | O | Y | N | ? | N | P | Y | 4/8 | |
| Pepper - Takano | A | | | | | | | | | |
| Lettuce - sunny | A | N | Y | N | ? | N | P | N | 4/8 | |
| Lettuce green | A | N | Y | N | ? | N | P | N | 4/8 | |