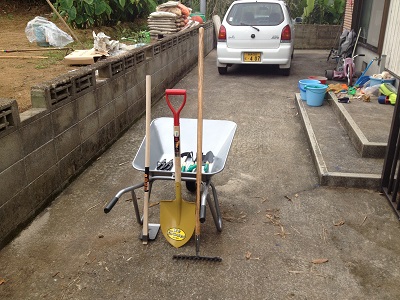 Farm Equipment



After moving to the Tanegashima, Japan, I made a commitment to myself to only use hand tools and forego any mechanization, including rototillers, weed eaters, and anything else requiring energy other than elbow grease. A daunting task to say the least considering I was dealing with three farms totally over 400 square meters. In addition, avoiding mechanization is good for you, good for the environment, and a way to really make you feel connected to nature.

I went on my way hauling, tilling, sowing, and harvesting, using pretty much only what you see in the picture. After a year of farming I was able to lose a fair amount of weight, got much stronger, and grew a tremendous amount of veggies. All this and the respect of the locals....Japanese people really appreciate hard work, especially from a foreigner.

Then came the injuries. A torn bicep from pulling our car out of the sand at the beach, and then two torn shoulders. We returned to America for a few months and then moved back to the island....another story. I had no choice but to give in and purchase a small rototiller. Now we are farming about 800 square meters, and thank goodness for the rototiller. Now on to the tools. I basically divide them into two categories....working tools and hand tools.



Working tools

include: a wheelbarrow, shovel, hoe, and a rake.



Hand tools

include: a shovel, hoe, rake, clippers, and a tree saw.

With this arsenal at your disposal, there is no way you can go wrong. These tools can be used in many different ways, for many different tasks, and really all you need for successful farming.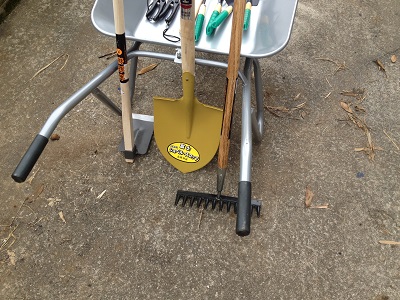 Working Tools





Wheelbarrow

- The hardest worker in the farm, used for hauling dirt, weeds, and also used as a work table for tools, compost, or whatever you need.



Shovel

- Probably the most basic farm tool, used for breaking up the soil, digging out tree roots, and making holes for trees and posts.



Hoe

- This tool is a must for making beds. This is also a handy tool for weeding, pulling out tree roots, for breaking up the soil, and for packing the soil when making beds.



Rake

- Another invaluable tool used for raking leaves and grass while leaving the soil in place. Also very useful for smoothing out the sides of farm beds and the drains in between the beds.



Note

- Ever mess up the handle on one of these tools? Then you probably know the wood is really difficult to get out of the metal piece. What to do? Simply toss the wood and metal pieces into your next campfire and burn the wood out.