Our Tanegashima Story

The decision to move to Tanegashima was a bit of a surprise for family and friends, although they are pretty much used to me doing these kinds of "crazy" things. We went through a lot to get to this place. The move, the island house, and getting set up, all proved to be very challenging but the benefits of being on this island were well worth the difficulties.



Picture

- Us hanging out at the rock beach.

I decided to put our Tanegashima story online in order to provide additional information about the island (information in English is minimal at best) including small points which you cannot find elsewhere online. These small details might prove useful to those of you planning to visit Tanegashima or even to travelers to other places in Japan. I am hoping these pages might also serve as inspiration for those of you who are contemplating moving to a new place and a bit nervous.

Hopefully you enjoy our story and can find some time to post your thoughts on a few pages. Thank you for joining us on our ongoing island adventure.
Welcome Son



Welcome to our new son, Lael Rani Hayman, who was born in Nishinoomote, the north city of Tanegashima, on May 3, 2016.

Get all the details and lots of pictures



Picture

- Presenting

Lael Rani Hayman

....live long and prosper.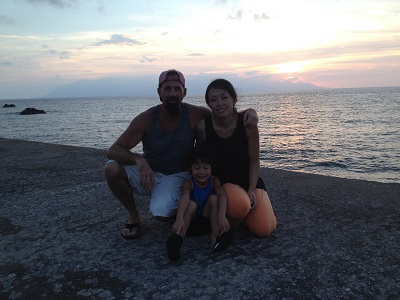 A Little About Us

This is me Howie, a guy originally from Buffalo, New York, who moved to San Diego, California, and then to Nara, Japan, and is now living on the beautiful island of Tanegashima, located off the coast of the main island of Kyushu, Japan. This is my wife Akiko who, as you might have guessed, is Japanese. Then in the middle is Shai, our six year old son. Now with the introductions out of the way, on to our story.



Picture

- Hanging out on the high fishing pier close to the house and watching the sunset with Yakushima in the background.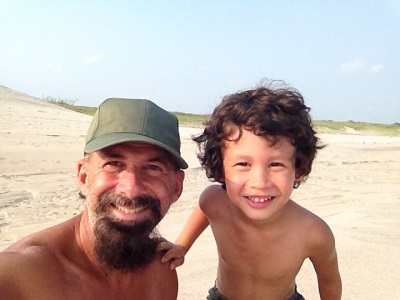 Where 2 Go?



I met Akiko during a Summer trip to Japan and a few years later we got married. After a couple of years in San Diego, out son Shai was born. We decided to move to Nara, Japan in order to be close to family. We stayed there for about five years and decided it was time to move on.



Picture

- Me and Shai at Maenohama beach.

Akiko found a job working for Apple computers. I continued to make money from Google ads on my sites. With both of us (yes Google and Apple, quite a computer geek family) able to work from home and able to work anywhere, we decided to move from Nara, Japan.

We originally thought about moving to Kobe which is without a doubt one of the nicest cities in Japan. Kobe is very cosmopolitan with plenty of things to do. Many foreigners are living there and many international couples like us. Then we thought about it and Kobe has a climate very similar to Nara. Summers are hot and humid....this was okay for us....but then there is about four months of cold temperatures with a little snow....this was not okay. Couple this with the high cost of being in the city, the noise, the pollution, the relatively unfriendly people, etc., and the decision to move to an island became the only choice.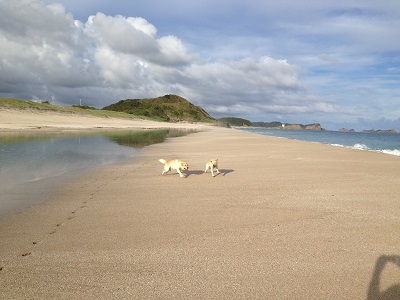 Tanegashima Discovered



I began searching for warm and more isolated places in Japan. Akiko suggested Okinawa originally but this was unacceptable for me due to the American bases and American influence there. Moving there would seem more like being back in San Diego, California.



Picture

- Our dogs hanging out and playing at the beach at Maenohama Seaside Park.

Those islands are also infested with Habu snakes which are highly poisonous nocturnal snakes which often enter homes in search of mice and other food. Definitely not a good place for a small child, two dogs, and a cat. All this and a dialect of Japanese, Okinawa ben, which even mainland Japanese cannot understand made this choice unacceptable.

Then I found Tanegashima. This is a small island located off the coast of Kyushu and mainland Japan. Tanegashima is known for the space center and beautiful beaches not to mention the subtropical climate. The warm temperatures throughout the year would allow us to explore nature and do many fun activities. I became obsessed (OCT - Obsessive Compulsive Tanegashima) with this place.

We found a home on the island online, packed up our stuff, and moved to this wonderful place in September of 2014. Now almost two years later and the adventure continues.
The Adventure Continues

Now 2017, and with the arrival of our new son, we are pretty much hanging out at the house these days. No worries though, the house and yard are completely changed and now like a tropical beach and camping resort, loaded with tropical trees, a rock bbq, and beautiful skies.



Picture

- Hanging out at Kumano beach.

Our days are spent farming, fishing, and hanging out at the beaches. We usually eat lunch and dinner outside and spend nights looking at the stars and relaxing.

The following are links to completed story pages each containing tons of pictures. Enjoy.

Our Year In Review 2016

December 2016
A very cool nighttime rocket launch and the case of the missing tooth.
November 2016
Another Thanksgiving on Tanegashima, a hometown fair, and a rocket launch.
October 2016
Really nice camping trip and a crazy Halloween party.
September 2016
A couple of typhoons and a fantastic music festival.
August 2016
A visit from family and fun at the beaches.
July 2016
Happy Birthday Shai and a month focusing on him.
June 2016
This month was our wedding anniversary, Daddy Day, and a trip to our favorite beaches.
May 2016
This month was all about the arrival of our new son Lael, and a very special Mommy Day.
April 2016
A couple of birthdays but overall a pretty quiet month.
March 2016
The rocket marathon, a couple of parties and a trip to the park to see beautiful cherry blossoms.
February 2016
The focus this month was mostly on farming.
January 2016
Happy New Year. We spent a very traditional New Years on the island. There was also a beach cow and a penis.

Tanegashima Story 2015

Tanegashima Story 2014