Friends,



Welcome to my place in cyberspace. My name is Howie, a guy originally from a quaint little village called Kenmore, in Western New York. We are soon returning to a very small island called Tanegashima, located off the coast of Kyushu and mainland Japan.



Picture

- Us hanging out at the rock beach.

The time between my days growing up in the snow, and the present, has been quite an adventure, albeit not without many personal challenges. Over the years I realized a few things, actually three in particular, which are important for getting through from day to day, "and making it," in this often crazy and chaotic world.

This site is all about my interests, thoughts, and anything else which seems noteworthy. Hopefully those of you joining me on these pages can find a few ideas, inspiration, motivation, etc....to help you along your road. Please communicate your thoughts by leaving a comment at the bottom of any page which moves you.

Join me on these pages with your thoughts, suggestions, constructive criticism, or simply to say hi.

Everybody is welcome here.

Looking forward to meeting you all. Until then.



Howie Hayman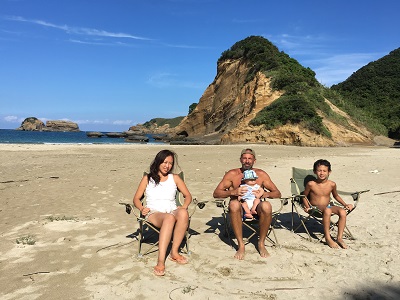 Our Story

For now our story takes you to Tanegashima, a tiny little island south of the main island of Kyushu in Japan. We moved to this island in 2014, bought a home in San Diego county in 2017 and after six months decided to sell and move back to the island. We are currently staying with family in Nara, Japan until the house closes the equivalent of Japanese escrow which should be at the end of January 2018.

The real reasons we moved from Julian, California - Yup our six months in America were the worst ever for this family. A few months after moving there we could not wait to get out. Read our incredible story....no it is not a movie script even though it seems like it. You will not believe. BTW the page is not completely finished but still good reading.



Picture

- Us enjoying camping at Hamada Beach last Autumn.

Full Story - Our days on Tanegashima (plenty of cool pics) from the beginning.
Our Year In Review 2016

December 2016
A very cool nighttime rocket launch and the case of the missing tooth.
November 2016
Another Thanksgiving on Tanegashima, a hometown fair, and a rocket launch.
October 2016
Really nice camping trip and a crazy Halloween party.
September 2016
A couple of typhoons and a fantastic music festival.
August 2016
A visit from family and fun at the beaches.
July 2016
Happy Birthday Shai and a month focusing on him.
June 2016
This month was our wedding anniversary, Daddy Day, and a trip to our favorite beaches.
May 2016
This month was all about the arrival of our new son Lael, and a very special Mommy Day.
April 2016
A couple of birthdays but overall a pretty quiet month.
March 2016
The rocket marathon, a couple of parties and a trip to the park to see beautiful cherry blossoms.
February 2016
The focus this month was mostly on farming.
January 2016
Happy New Year. We spent a very traditional New Years on the island. There was also a beach cow and a penis.
Happy News

Welcome to our new son, Lael Rani Hayman, who was born in Nishinoomote, the north city of Tanegashima.
Full baby story



Picture

- Baby sleeping in our bed.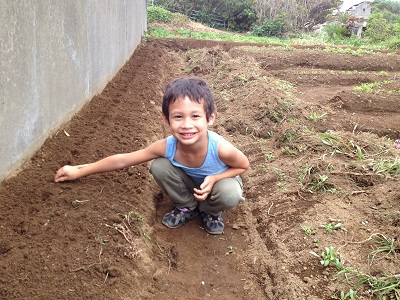 Farming

I am now enjoying subsistence farming on this small subtropical island called Tanegashima. The challenges are many but the rewards are well worth the effort.



Picture

- Shai putting in sunflower seeds.

Visit My Cool Farms - A bit of something for the beginning and experienced farmer alike.