Our Story



We are a very different kind of family. We are not working in the conventional sense, our kids are not in school, we are mostly self-sufficient supplying close to 100% of our fresh food needs, and we spend 24/7 together. It was a tough road to get here but now we are settled and enjoying a very simple existence. Over the years I realized the three things that got us here, Taking Chances....Making Changes....Being Happy. For those of you contemplating life changing decisions, hopefully you can find a few ideas, inspiration, motivation, etc....on these pages to help you along your road.



Picture

- Us doing a picnic lunch at the public park a few minutes walk from our mountain.
We Purchased a Mountain



We purchased a mountain in the Northern section of the island. We are planning an agroforestry project. If you wanna know more please scroll to the Agroforestry links. The information is written in English but will be translated to Japanese soon. Thanks for your interest in our agroforestry project.



Translation in Japanese:


山を購入
島の北部に位置する山の土地を取得しました。この山をアグロフォレストにするアグロフォレストリープロジェクトを計画しています。 詳しくは、Agroforestryリンクまでスクロールしてください。英語ですが、日本語も近く公開予定です。よろしくお願いします。



Picture

- Trail to one of our proposed campsites.

We are already supplying close to 100% of our fresh food needs with our farms and now it's time for the next step, which in this case, means buying a mountain. Yup, we purchased a mountain which backs to the reservoir which supplies water to the island. The total land area of the mountain is over 18,000 square meters, which is about 193,750 square feet for those of you still using the Imperial measuring system, or about 4.5 acres. The mountain is loaded with hinoki and sugi trees and has beautiful views of the reservoir. Public facilities are located directly across the reservoir and include a huge park, sports fields, a community center, and several bathrooms. A small cabin style bathroom is located a mere 4 minute walk from our property in a small park and includes flush toilets, a public source of drinking water, and picnic tables.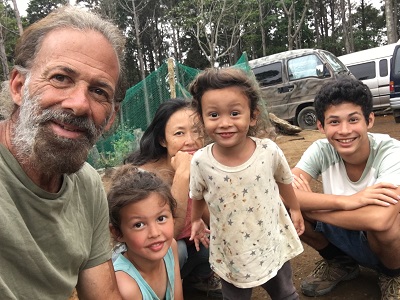 Mountain Camping





April 2023

- Hey there. Actually got a bit of time today to post an update. This is us up at our mountain campsite about to return home from our 39th overnight camping trip in a little over a year and a half. This trip was for our typical four days and three nights. The campsite is huge now with an over five meter long Toyota High Ace bus, and three Subaru Sambar Diaz Classic buses. Akiko and our two youngest kids sleep in the High Ace, our oldest son sleeps in the new Sambar bus, and I sleep in one of the other Sambar buses. The fourth bus is currently being used to store wood, tools, and other supplies but will eventually become a fourth bedroom. We opted to purchase old buses over trying to build a cabin at this time due to my arthritis and other physical limitations....more about this in future posts. Anyway, we are now growing a lot of food up there after months of removing huge oak trees and lots of understory trees. When we purchased this 4.5 acre mountain forest, you could not even see the sky due to the thick canopy. Now there is beautiful open sky perfect for growing and for star viewing at night. We love it up in our mountain and are looking forward to a Summer of fun.



Picture

- Us up at our mountain.
Our Agroforest Progress Report


AGROFOREST



Now April 2023 and the campsite is set up and comfortable now.
Continue reading....
The History of Our Agroforest


AGROFOREST



When we decided to purchase this property, we had no idea of the deep history connected to this land.
Continue reading....