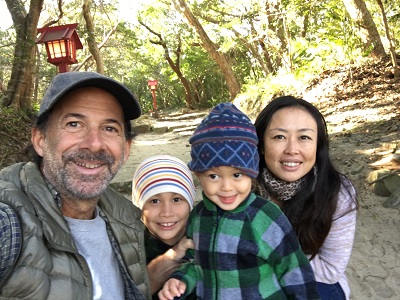 Our Tanegashima Story

The decision to move to Tanegashima was a bit of a surprise for family and friends, although they are pretty much used to me doing these kinds of "crazy" things. We went through a lot to get to this place, including four international moves. The moves, the island house, and getting set up, all proved to be very challenging but the benefits of being on this island were are worth the difficulties.



Picture

- Us doing the traditional first visit of the New Year to a Japanese shrine a couple of years ago.

I decided to put our Tanegashima story online in order to provide additional information about the island (information in English is minimal at best) including small points which you cannot find elsewhere online. These small details might prove useful to those of you planning to visit Tanegashima or even to travelers to other places in Japan. I am hoping these pages might also serve as inspiration for those of you who are contemplating moving to a new place and a bit nervous. Hopefully you enjoy our story and can find some time to post your thoughts. Thank you for joining us on our ongoing island adventure.

ISLAND NEWS





Covid-19



Our little island dodged a bullet since the first case of Covid-19 was identified in Wuhan, China, in December 2019. On December 22, 2020, the first case of Covid-19 was discovered on the island. (details below)



Picture

- Notice at the entrance of our property with instructions about keeping distant and delivery instructions.

TRANSLATION:


TO EVERYBODY
Due to the virus, we are not communicating in person for awhile. Mail delivery, Invoices, ETC., please put in the mailbox. Whatever does not fit in the mailbox, please put in front of the entry. If you need to speak with us directly please call the following number. Thank you very much.
Today

-

Covid-19 Update:

Still no new cases of the virus reported.



January 27, 2021

-

Covid-19 Update:

A second case of the virus has shown up on the island sometime during last week. Apparently a man in his sixties is the second confirmed case. We continue to self isolate. Our days are being spent at home, working online, playing, listening to music, watching comedy, staying warm, and enjoying being together.



December 22, 2020

-

Covid-19 Update:

An 80 year old woman in a nursing home tested positive for the virus. Although information is limited, it appears that three family members came to visit her from Tokyo. The island has been issuing daily announcements over the public broadcasting system urging residents not to panic but to take precautionary measures. We isolated ourselves months ago and just began easing up with a couple of house parties recently. Now because of the virus hitting the island, we are back to isolation once again.

We made the decision to totally self isolate pretty much at the beginning of the pandemic. We only go to our farms and to the beaches where there are no people. We are no longer grocery shopping. We are purchasing all of our dry goods online and we are growing more fresh food at our farms than we can even use. We are currently using a quarter acre farm close to our house which belongs to our friends. They let us use it for free since they do not need to deal with weed control and because they are very nice. We are also growing most of our herbs on the quarter acre of land where our house is located, and during the last couple of years, we put in over 200 fruits trees including about 40 different varieties in our yard and bordering our property. Yup, making absolutely sure we are growing enough fruits and veggies for all our needs.
We are home educating our kids which keeps us from dealing with school issues. Actually none of our kids have ever attended any form of school or preschool....thank goodness. I spent the last couple of years changing our property into a place which is interesting and educational for our kids….basically converted our property into a virtual park….please see picture. There is a huge animal habitat with a rock mountain and a pond. This is a totally open habitat where animals can come and go as they please, with the exception of our small turtle, who is unable to scale the walls. We caught tons of frogs, toads and lizards in the farms the last couple of years, which we bring home for bug control at the house and to keep them from getting trampled at the farms. There is a huge greenhouse where we are growing most of our herbs. There is a combination smoker and BBQ which we also use to make bread. A huge picnic table, constructed with a concrete block base and wood top, is located in the middle of the recently installed sod. The foot area of the table is filled with beach river rocks for drainage and for foot massages. There is also a huge sandpit not shown in the picture. We are also converting the other three buildings on the property into a family room, a playroom, and a farm processing area.

We are a family who spends 24/7 together to the astonishment of our friends. This is with no fighting, well occasionally a few disagreements. We have always been together and are very used to our situation. This turned out to be a huge benefit since we were already set up to endure this pandemic and any others which might spring up in the future. The economy, school closures, event cancellations, all have little or no affect on us. Unlike America, the health insurance in Japan is fantastic. Premiums and copays are totally on a sliding scale dependent on income. There is very little crime in Japan, and none on this island. We enjoy a very simple existence, something you would find hundreds of years ago (albeit with access to modern technology....lol), with self sufficient farming begin our work, the island along with the rest of the world being our source of education, and the incredible friends we made on the island as our source of socialization.

As previously stated, our kids are being home educated. We do not give them formal instruction at all. We teach them how to support themselves. We let them fully participate in farming, we teach them how to cook, basic construction and home maintenance, and they actually enjoy cleaning. They have space in and out of our property which is totally their own and it is up to them how they maintain that space. They have tons of books, mind expanding toys such as Lego, board games, and many shows online where they learn about the world. All math and science is taught by application to daily chores such as farming and working around the house. We also talk a lot, which is probably their main source of information. The conversations are on an adult level. They know all about the pandemic, sex, politics, societal issues, and basically about the good and bad in the world. We have fantastic friends of all ages with kids of all ages. This gives our kids the opportunity to constantly communicate on many levels with people of different ages. We speak mostly English in our house but our kids can understand Japanese as it is spoken all around them on this island. We even watch mostly English language shows. Now we are binging on The Late Late Show with James Corden...a brit and an incredibly funny guy. Our kids do not play video games, they do not eat garbage, and they do not hate, in fact they are exposed on a daily basis to the humor and music of different cultures. Although me and Akiko read the news online, the news is not ever playing on the TV. In fact, there is music playing the entire day in out home. Our kids are very happy, they love each other, our home, and are very happy to be in Japan.

We are sad though not to be able to meet our friends as much now. Hopefully things will be much better in 2021. Be safe everybody....wear masks....keep distant.
Farm Purchase



We are now in the process of purchasing a couple of small farms….the farm adjacent to the huge farm our friend is letting us use and another farm across the street. We received permission to use the small farms pending completion of the paperwork finalizing the purchase, which in Japan could be quite awhile. This year we are at least doubled our farm production. This season we already harvested over a thousand sweet potatoes, tons of regular potatoes, a wide variety of white and colored radishes, and many different leafy veggies. We also grow a lot of herbs, including basil, dill, and parsley, which we eat pretty much every day. FARMING ROCKS FOR SURE.
Message To Friends



Really looking forward to meeting friends again. We are no longer inviting friends to the house....better to be safe than sorry. Hopefully you are all doing well and getting through these difficult times. Would really be nice to get a message from all of you. Please post a comment on my Facebook page or send a message through messenger.
2020 Year in Review



This was both an exciting year and a difficult year for us. We were happy to welcome our third son into the world. This was by far the best news of the year. We were lucky all of us were able to be there for his birth. There was a window of only a couple of weeks during the pandemic where kids were allowed in and we were fortunate he was born during that time. Much of the year was spent in isolation with the exception of a few small parties at the house with friends and occasionally meeting friends at our farms. We stayed away from the public beaches and most of the island events were cancelled. We spent most of this year finally getting control of our farms and finishing off a bunch of house projects. Then in August I could not walk for a few days. Although not confirmed, I now have most of the symptoms of rheumatoid arthritis. Really sucks and I plan to write volumes about this in the coming year. Anyway, with 2021 approaching, I would like to say

Happy New Year

to all of you. Hopefully COVID will go away at some point and the world can return to normal. Until then.
Welcome to Our New Son



June 9, 2020

- Welcome to our new son,

Ethan Mishael Hayman

, who was born in Nishinoomote, the north city of Tanegashima, on June 9, 2020. Check out our crazy story about the night before and see pictures of the little guy.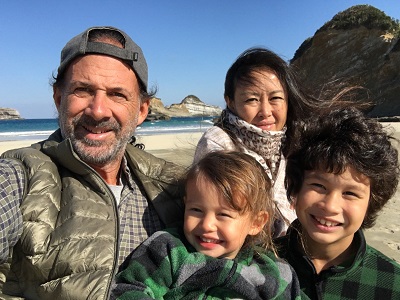 2019 Tanegashima, Japan



We began this year with trips to a few of our favorite beaches. We made our usual pilgrimage to Homan Shrine for hatsumode, which is the traditional first trip to a Japanese shrine of the new year. We returned to the farms and harvested tons of delicious potatoes. Then we were hit with a pretty strong earthquake with the epicenter only about ten kilometers from the house. Summer arrived and with it a lot of trips to the beach. We got a visit from family for a few days and got together with friends at the house.
August 2019 - Rice processing and a trip to the beach. A party with family and friends and a rocket festival.
January 2019 - Happy New Year fun and a trip to our favorite beach. A return to farming and a pretty strong earthquake.
2018 Tanegashima, Japan



This year we moved to our new house in Japan and are finally settled....NO MORE MOVING. The house we purchased has a one and a half car garage, a concrete storage building, and a huge farm storage building, all this on about a quarter acre of land. The house was basically in really good condition but the outside was a mess. Much of the year was spent completely changing the landscaping and painting and staining the outbuildings. The island was hit by a really strong typhoon, in fact, the eye went directly over the island. It was crazy and pretty much destroyed the huge 100 year old tree at the entrance of our property. During Summer, we threw plenty of house parties. We spent a lot of time at our favorite beaches and went to lots of music events. (pictures coming)
2017 Tanegashima, Japan



This was without a doubt the most difficult year for our family. The owner of the house we were renting in Tanegashima said he might be thinking about returning to the island someday and said we should beging thinking about moving. Although there was no time limit given, we decided to take matters into our own hands and move anyway. We found another house in Minamitane town but right before we were to meet the owner, we found out it had already been rented. We completely changed the plan and decided to return to America and give it one more try there. I still owned my condominium and had all my personal stuff stored there. It was a matter of time before we had to return anyway. The thought of moving to the condo with two young boys was unacceptable and I came up with an alternative plan. I found a home up in the San Diego County mountains and began negotiating the sale of the condo and the purchase of the mountain property, all online. Thanks to the help of our friends and an incredible real estate, I was able to pull it off. We moved to the mountains during the Summer. It took only about three months to realize how awful this place was. It took about another three months to prepare the property, mostly the outside landscaping, for sale. We sold the property for a pretty nice profit and moved out in January of 2018, a mere six months after we moved in there. I plan to post a very detailed account of this really interesting story. (pictures coming)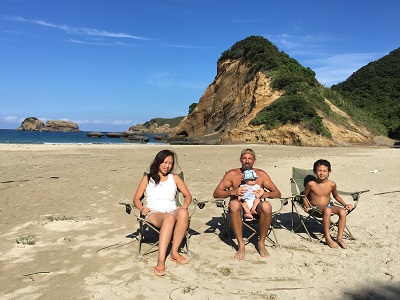 2016 Tanegashima, Japan



This was a really good year for us. We were happy to welcome our second son into the world. This was the happiest news of the year for sure. We were all able to be there for his birth. This turned out to be our last full year on the island before returning to America the following year. This was actually our second full year on the island, and what fun it was. We spent plenty of time visiting our favorite beaches, throwing a bunch of house parties, and perfecting our farming skills. Basically enjoying our very simple existence on this incredibly beautiful island.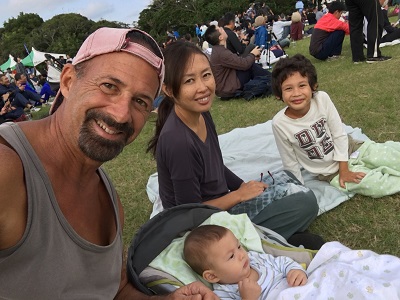 Rocket Launch and Thanksgiving



November, 2016

- A rocket launch, hometown fair, picnic, beach trip, and a really nice Thanksgiving on the island.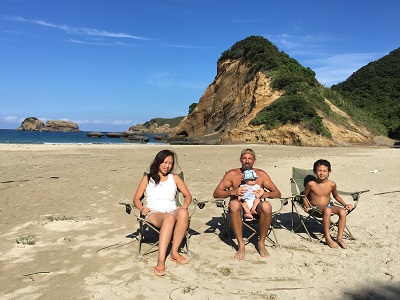 More Beach Camping and Crazy Parties



October, 2016

- Another fun filled month with beach camping, crazy parties, and plenty of home grown bananas.
Full Moon Music Festival



September, 2016

- A fantastic music festival, cool clouds, another typhoon, and lots of bike riding.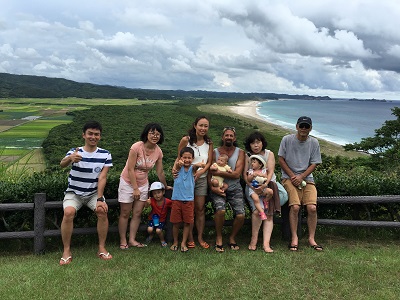 Family Visits and Surfing



August, 2016

- A visit from family and a whole lot of surfing.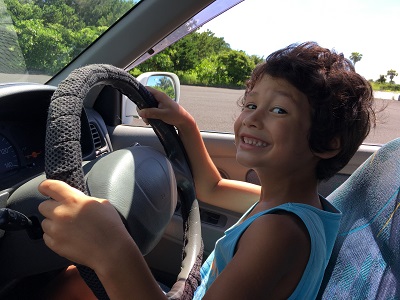 Oldest Son Learning to Drive



July, 2016

- Our oldest son

Shai Maxwell Hayman

got to drive a little for the first time about a week after he turned seven years old, albeit in a beach parking lot.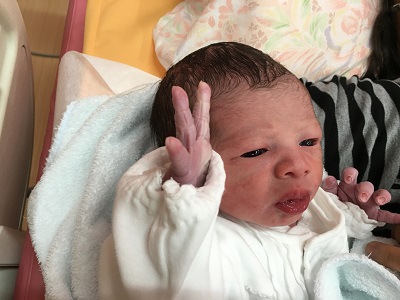 Welcome to Our Other Island Son



May 3, 2016

- Welcome to our other son,

Lael Rani Hayman

, who was born on May 3, 2016 also in Nishinoomote, the north city of Tanegashima. Check out our story from this fun and happy month. Live long and prosper.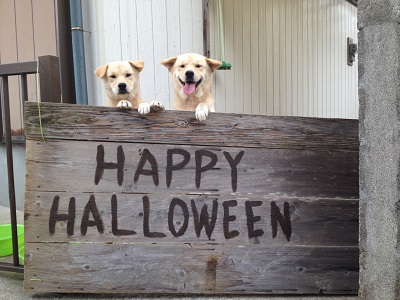 2015 Tanegashima, Japan



This was actually our first full year on the island. This years was incredible with parties, festivals, and rocket launches. We got our new mountain bikes from America. Then we participated in the Rocket Marathon which was one of the best events ever on the island. There was a before and after party with plenty of food, wine, and beer. The Summer was spent at the beach, doing BBQ, and spending time with friends. Then we closed out the year with our second Hanukkah on the island.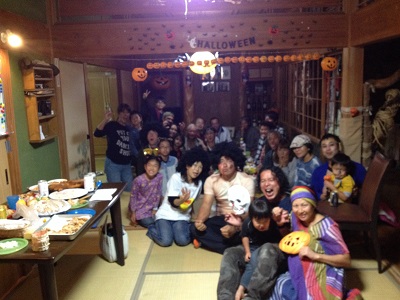 Beach Camping and a Crazy Party



October, 2015

- A fun month from our second year on the island.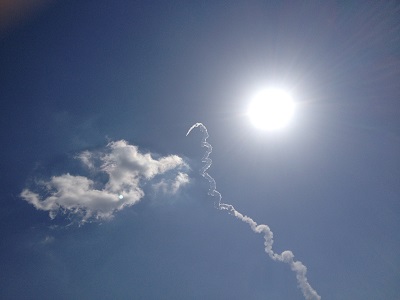 A Really Busy Month



March, 2015

- The Rocket Marathon, tons of parties, and a rocket launch.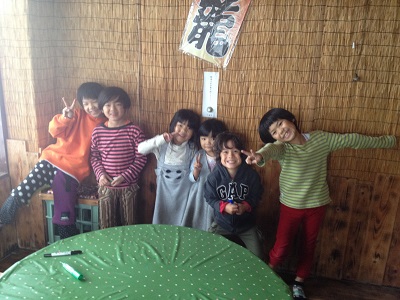 2014 Tanegashima, Japan



A really fun year and the beginning of our island adventures. Much of this year was spent setting up and getting used to this place. A couple of typhoons within a week of each other slammed into the island damaging the house and wreaked havoc on the farms. Caught some nice fish, and visited a couple of beautiful beaches, along with some incredible caves. We saw a rocket launch, went to a fun fish festival and celebrated our first Hannukah on the island. Can you guess which kid in the picture is our son Shai? A bunch of really cute kids for sure.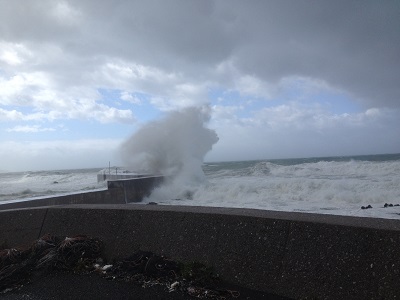 Back to Back Typhoons



October, 2014

- Our first attempt at farming turned to disaster compliments of back to back typhoons that slammed the island.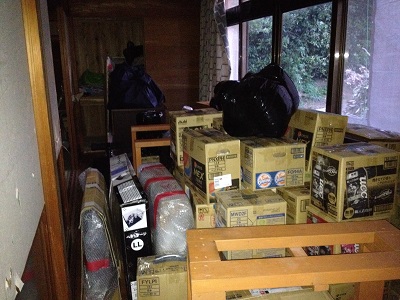 First Days on the Island



September, 2014

- Traveling back to the year 2014 and our first days on the island.
2013 San Diego, California Vacation
March 2013 - Return to Japan and meeting friends and going to restaurants. (no pictures)
February 2013 - Hanging out in beautiful San Diego, California. (no pictures)
January 2013 - Family returned to Japan after vacation in America. (no pictures)
2012 Nara, Japan and Traveling to America
December 2012 - A small house party and then traveling to America for a three month vacation. (no pictures)
November 2012 - A very cool Halloween party at our house in Japan. (no pictures)
2011 Nara, Japan
2010 Nara, Japan
2009 America and Japan
1960-2000 Ancient History
Ancient History 1960-2000 - A lot of really old stuff.